Proud Moments with Sani-Manic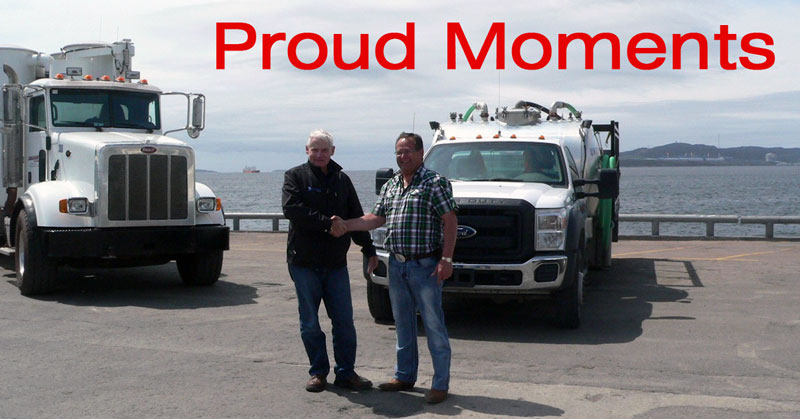 PROUD MOMENTS!
2 years ago, Louis Robitaille with a company called Sani-Manic Cote Nord located in Sept-Iles, Quebec called to check pricing and availability on a Cusco TurboVac. Price was good, availability immediate, but what about service at their location. As Mr. Gauthier, pictured on right and owner of Sani-Manic Cote Nord clearly states, "SERVICE EST TRES TRES IMPORTANT!!!".
Well...Sturgeon Tank, partnered with Jack Doheny Supplies (Who have now opened Vacuum Trucks of Canada for the Canadian Market), is very proud to have this picture taken June 9, 2012, of all the trucks ordered from us since then and we are just as proud of our service record and support of those trucks!!
Also, the complete team at Sani-Manic Cote Nord is very proud of the equipment purchased from Sturgeon Tank and Jack Doheny Supplies but even more proud of their growth since the acquisition of Truck 1.
SINCERE CONGRATULATIONS TO THE ENTIRE SANI_MANIC-COTE NORD ORGANIZATION from Sturgeon Tank and Jack Doheny Supplies. Thanks for your business...IT IS APPRECIATED!!!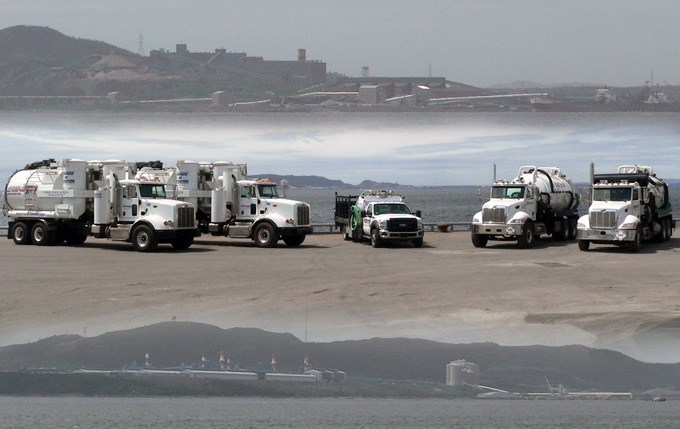 MOMENTS DE FIERTÉ!!
Il y a deux ans, Louis Robitaille de la société Sani-Manic Côte-Nord située à Sept-Iles, Québec nous a rejoint pour vérifier nos prix et la disponibilité d'un Turbovac Cusco. Le prix était bon ... la disponibilité était immédiate ... mais il y avait toujours la question du service à leur emplacement ... Comme M. Gauthier (photographié à la droite) est le propriétaire de Sani-Manic Côte-Nord, nous a clairement dis ... "LE SERVICE EST TRES TRES IMPORTANT!".
Eh bien ... Sturgeon Tank, en partenariat avec Jack Doheny supplies inc (le propriétaire de Vacuum Trucks of Canada pour le marché canadien), est très fier d'avoir prise cette photo le 9 juin 2012, de tous les camions commandés chez nous. Nous sommes aussi tres fiers de notre dossier de service et du soutien de ces camions!
De plus, L'équipe Sani-Manic Côte-Nord est très fière de l'équipement acheté chez Sturgeon Tanks et Jack Doheny supplies, mais encore plus fière de leur croissance depuis l'acquisition du premier camion.
Sturgeon Tanks ainsi que Jack Doheny supplies inc félicitent à l'équipe SANI-MANIC-COTE NORD. Merci pour votre support ... Il est apprécié!